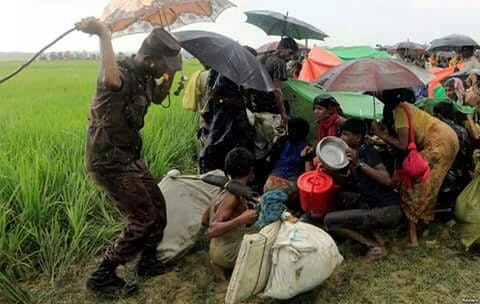 TUESDAY 17 OCTOBER 2017: New figures released by the International Organisation for Migration on Tuesday showed that 582,000 Rohingya had fled Myanmar since August 25.Fleeing Rohingya continue to report that murder, rape and infanticide continues. This drone footage dramatically shows the extent of the exodus.
Entry into Bangladesh is not simple. There are a variety of bottlenecks. One of these is right at the border and is described in this Voice of America article. Only a week ago I witnessed a huge influx in Palaung Khali with hundreds of families sleeping under the open sky. According to the UN Human Rights Office of the High Commissioner
Myanmar security forces purposely destroyed the property of the Rohingyas, scorched their dwellings and entire villages in northern Rakhine State, not only to drive the population out in droves but also to prevent the fleeing Rohingya victims from returning to their homes.